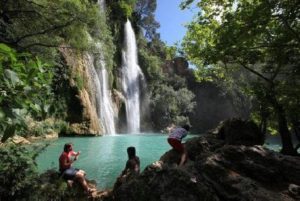 Markets, Monasteries, Waterfalls
Tuesday is market day  (le marché). Just steps from your room is a wonderful provencal market with over a hundred  regional vendors. Next we take a short walk to the Chapel at San Ferreol. There are also two monasteries within within a few minutes the village: Le Thoronet. and St. Michaels.  A little further up the road is the waterfall at Sillans-La-Cascade and the quaint village of Villecroix. Midday we will dine at Les Gourmands in the village of Aups, famous for its  truflles.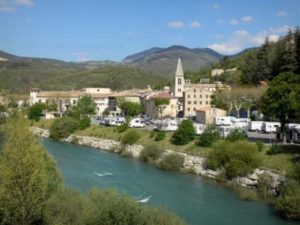 Petite Grand Canyon
We're off to the Gorges du Verdon, France's version of the Grand Canyon. But first we'll stop in Moustier, a scenic village on the mountainside.  It is well known for its distinctive pottery. After our meal at a local restaurant we will drive along the ridge of the Gorge and see the wonders of Verdon. The more adventurous can hike with Tom for an  hour or so if they like.  To finish the day we will stop by the scenic village of Castellane.
The Riviera
We're off to the French Riviera ! We will visit Cannes, home of the famous film festival. Then we will drive along the beautiful coast line, dotted with mansions of the rich and famous.  We will stop in the smaller seaside town of Antibes and visit the Picasso Museum.  Then it's a walk along the harbor, filled with huge private yachts. A very special meal awaits us at the Michelin Star restaurant Le Figuier de Saint-Esprit.
Day of Wine and Olive Oil. Tour of Tourtour
We will visit the elegant Chateau de Berne  which has a  a vineyard of over 200 acres. That will also be our luncheon destination.  Then a tour at a nearby mill to see how olive oil is processed. Later we take a short drive up the mountain to the charming villages of TourTour and Cotignac.  The solemn U.S. Military Cemetery at Draguignan will conclude our day.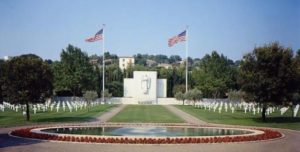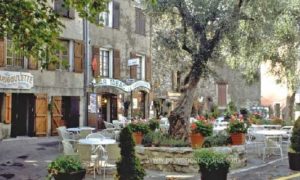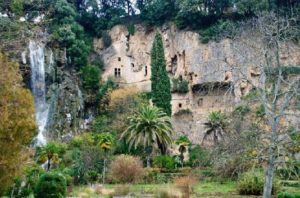 Sanary-Sur-Mer and Cassis and Incredible Calanques

Sanary was voted by the residents of Provence to have the best market in the area. And we would have to agree. This village is large enough to have shopping galore, yet small enough to see what local life is really like. We will dine in Sanary at the Michelin recommended restaurant: la p'tite Cour. A short drive away is Cassis, a seaside town noted for its calanques (think Mediterranean fjord). We will stroll through this unique village and then take a boat tour to see the those impressive calanques.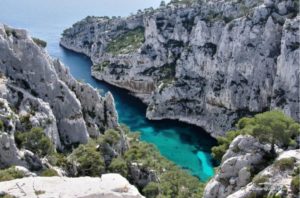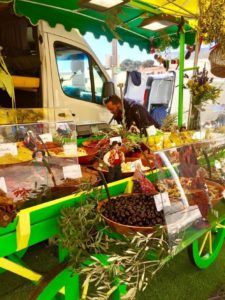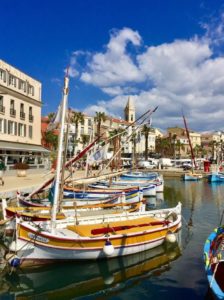 Your Choice
We have left open a free day where your group can choose a special site or activity we have not visited.  Maybe Monte Carlo, Nice, Saint-Tropez? Or maybe you want to revisit something we had seen earlier.   For the more sportif  members of the group, we can arrange a kayal trip or bicycle ride or mountain hike.  Or maybe you just want to lie on the beach or sit by the Maison de Midi's pool.